Trailer Weight Capacities
| | |
| --- | --- |
| Description | Capacity |
| Axle group | 25.5 tn |
| Approximate Tare Weight From | 5.5 tn |
| Carrying Capacity | 20.0 tn |
Trailer Weight may vary depending on construction.
All NorthStar Dog Trailers 100% Australian made to the highest quality. We offer a 1 Year Warranty.
Trailer Dimensions
The trailer deck can be built to suit your requirements. Commonly between 6-9 MT in length with a width of 2.5 metres. The trailer height with 20" axle is from 1200mm.
Trailer Construction
The main chassis frame of the Dog Trailer has a depth of 3.75mm (6mm 350GR webb plate with 130 x 16 bottom flange). Cross members are made of 100 x 45 TBF and the combing rail is constructed of 125 x 65 channel.
Tie down points on the trailer are positioned in the floor along each side of the trailer to allow tensioning of loads with chains. Tie down points are engineered to 1500 Kg on the trailer are positioned in the floor along each side of the trailer to allow tensioning of loads with chains.
A rope rail is fitted to the trailer underneath the combing rail.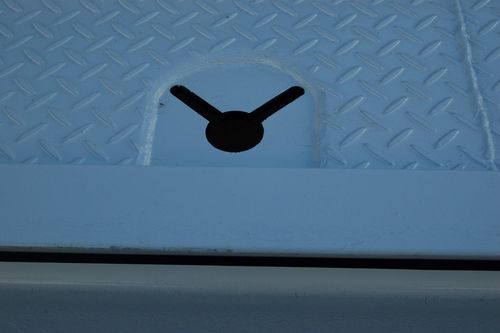 Ball Race
The ball race is a double row 1000 x 90 unit. Turn table lock is fitted as standard.
Trailer Floor
The floor is constructed of 5mm checker plate.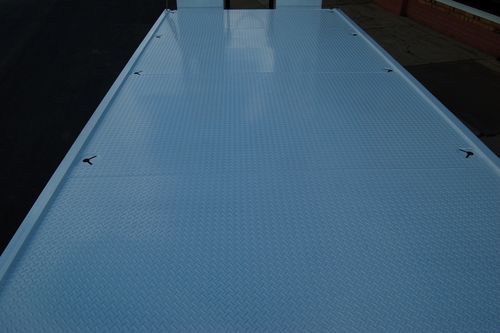 Dog Trailer Coupling
A choice of the Bartlett 59 AX, 50mm ring feeder or the DB1385 Pintle hook
Axles
20" axles with 10 on 285 PCD are fitted as standard.
17.5" & 19.5" can also be supplied when required.
Trailer Brakes
ABS Braking system fitted.
The trailer shall be to ADR 38-2 standard with 7" linings, full air using an A.B.C. brake system, with 24 / 30 boosters.
Suspension
Suspension is a FUWA K HITCH over slung style with 9 leaf springs.
Airbag suspension is also an option that can be fitted.
Trailer Tyres and Rims
255R / 70 22.5" are fitted as standard. 235/70 17.5" & 265/70 19.5" are also available. The trailer is fitted with a spare wheel and tyre as standard. The spare wheel carrier is mounted between the chassis rails for easy access for (1) one only person to remove and replace spare wheel. Clamped up by a winch mechanism for simple use.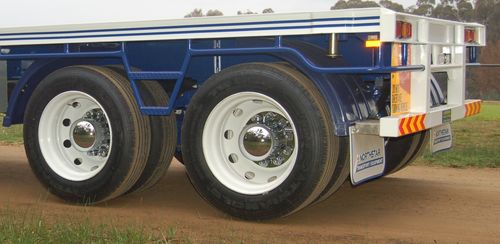 Front Leg
A quality wind down leg is fitted to the drawbar.


Lights
All lights are LED which are mounted as per ADR 62 / 00 requirements with a round 7 pin trailer plug.


Toolboxes
The trailer is fitted with an under mounted low profile tool box as standard. Extra toolboxes can be supplied if required.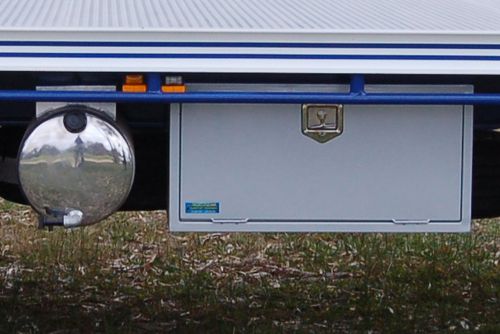 Water Tank
A 60lt aluminum water tank comes fitted as standard.


Mud Flaps and Mudguards
Mudguards are mounted at the front and rear of the wheels with steel stays.
Mud flaps are attached to the rear guards.


Finishing
Our finishing process eliminates all burrs and sharp edges, as well as sandblasting and coating with two pack paint in your fleet colors.
Other Extras Available
Other Extras Available
Gates, Gate Pockets
Fuel and or Water Tanks
Flush Combing
Alloy Wheels
BPW Axles
Air Bag suspension
Container pins
Reversing lights and Camera
Bi fold Ramps
Every trailer comes with 12 months Full Warranty.
North Star Transport Equipment is a company prepared to go the extra mile and has a high reputation of service and quality.
*Please note: Ratings are Federal Ratings, but may differ from state to state. Capacities quoted are to the best of our knowledge and we accept no responsibility for these quoted weights, but if difficulties arise, please notify us with your problems.