NorthStar Grain Spec Semi Tippers
North Star Transport Equipment custom-made Chassis Tipper trailers are manufactured to suit your requirements. North Star Semi Tippers are a quality product made for Australian roads.
To maximise your payload North Star engineering team will work with you to ensure your truck and rigid body combination meet legal dimensional requirements and maximum payloads.
Trailer Weight Capacities
All NorthStar Trailers 100% Australian made to the highest quality. We offer a 1 Year Warranty.
Trailer Dimension
Dimensions

Details

Weight
8.0 tn

Trailer weight may vary depending on construction

Side Profile

Rear-2.1mt (7'), Front-1.8mt (6') 3.2mm 450

Hardox.

Top of sides
3.4 mt
Floor Height
Rear-1.26mt (4') Front-1.56mt (5') 3.2mm 450 Hardox
Trailer Coupling
Standard PBR Air fittings, 7 pin large round, EBS Multivolt mounted front of chassis.
Trailer Hoist
High Quality 50 Tonne Hoist with CBS valve.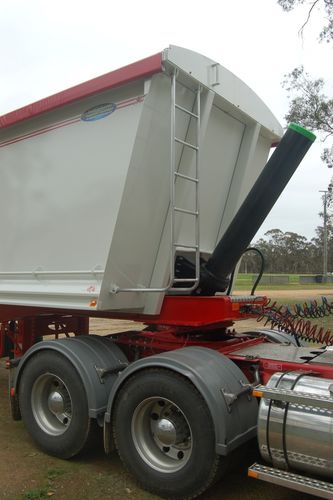 Suspension and Axles
17.5" & 19.5" can also be supplied when required.

20" axles with 10 on 285 PCD are fitted as standard.

Axles-Fuwa K Hitch F2000 10/285 Steel drum brakes.
Suspension- Fuwa K Hitch Airbag (with suspension dump).
Auto slack adjusters.
EBS brakes (includes load sense & roll stability).
EBS Smart board with hubodometer & weight gauge.
Rims/Tryes
Haulmax ATT101 275/70R 22.5 Tyres ATT Alloy Mill Finish rims 10/285 8.25 x 22.5.
Landing gear
The trailer is fitted with a K Hitch 2 speed landing Leg with rocker foot
Tarp
Fitted with a high quality PVC roll over with spline ajustable handle. The Tarp has Flexi bows and Front and Rear hoods.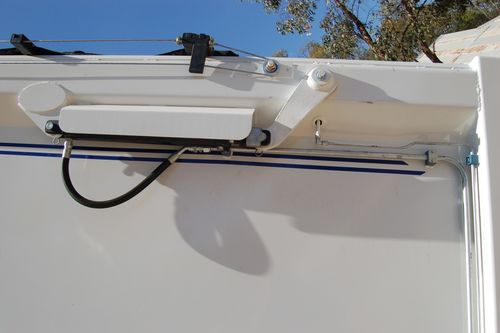 Lights
All Hella LED lights are fitted as standard to the ADR requirments including one Tailgate work light bar.
MudGuards and Mud Flaps
Poly mud guards over axle group, mud flaps across rear.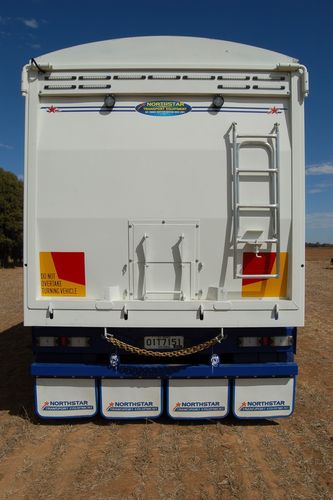 Features
Front access submarine style door.

North Star Grain Tipper with an air operated tailgate

Steel

bagging door

Swing out ladder on rear for easy access.

Heavy duty roll tarp with all reinforcing and tarpoon.

ToolBox
60lt Water Tank
Grain Scrapper, Broom & Shovel
Front and Rear ladders
All Semi Tippers come standard with stainless steel water bottles and tool boxes.